Cash® Special .22 HD – Captive Bolt Stunner
Cartridge powered CASH® Special is a pistol-shaped captive bolt stunning tool suitable for use on a wide variety of animals.
Introducing the CASH® Special state-of-the-art Captive Bolt Stunner, designed to ensure humane and efficient livestock stunning. This Captive Bolt Stunner is engineered for reliability, offering consistent performance that meets all regulatory standards. Its ergonomic design ensures ease of use, reducing operator fatigue and increasing productivity. With safety features built in, our Captive Bolt Stunner minimises risks, making it a trusted choice for professionals in the meat processing industry. Experience the perfect blend of durability and precision with our Captive Bolt Stunner, the ultimate solution for ethical and effective livestock management.
Lead Time Estimated Delivery:
29/12/2023
(UK Shipping Only)
Fast Delivery

Expert Advice

Exclusive Deals
Features & Benefits
2020 improvement to the CASH® Special range:
New barrel
Allows bolt to accelerate
Protects the head of the bolt
Allows the stunner to be position on animals head
The advantages of the CASH® Special are:
Ergonomic pistol-shaped design
Automatic bolt return
Fast loading action
Robust and reliable construction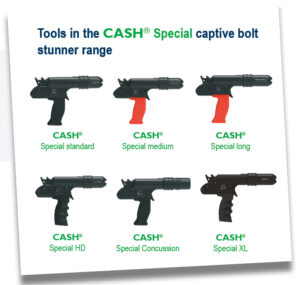 Technical Specs
▪ Proven ergonomic design
▪ Automatic bolt return
▪ Anti-bacterial compounded handle
▪ Fast loading action
▪ Robust construction
▪ Reliable performance
▪ Available in .22" and .25" calibre
▪ Can be used with a wide range of cartridges for different animal sizes
▪ Low maintenance costs
▪ Proof tested in accordance with C.I.P.
▪ Compliant with European regulation EC 1099/2009
▪ Supplied with cleaning tools and maintenance instructions
Delivery & lead times
We do our best to deliver within the lead times listed above. Although if you have any specific requests, please get in touch and we can see what we can do.
For international shipping, lead times may vary.

Fast Delivery

Request a quote for
international shipping