Cash Magnum .22″ Auto Captive Bolt Stunner
CASH® Magnum Auto is a cylindrical shaped penetrative captive bolt stunning tool featuring automatic bolt return suitable for most animals and ideal for high throughput processing plants.
Versatile, powerful and instinctively easy to use, the CASH® Magnum Auto features automatic bolt return for speed of use, and is ideal for high throughput meat processing plants.
This penetrative captive bolt stunning tool is suitable for most animals and is known for its dependability, reliability and low maintenance requirements.
It uses a wide range of cartridges of various calibres and can be fitted with a Stop Fire device. The cylindrical shape of the tool is made of the highest standards, using the finest materials, and with the most precise tolerances.
Lead Time Estimated Delivery:
01/12/2023
(UK Shipping Only)
Fast Delivery

Expert Advice

Exclusive Deals
Features & Benefits
The advantages of the CASH® Magnum Auto are:
Automatic bolt return
Trigger-fired operation
Proven ergonomic design
Fast loading action
Robust and reliable construction
New and improved barrel:
Allows bolt to excelerate
Protects the head of the bolt
Allows the stunner to be position on animal's head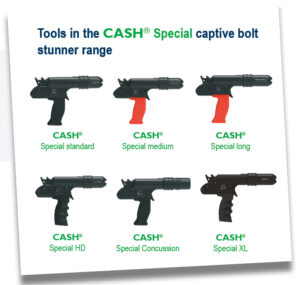 Delivery & lead times
We do our best to deliver within the lead times listed above. Although if you have any specific requests, please get in touch and we can see what we can do.
For international shipping, lead times may vary.

Fast Delivery

Request a quote for
international shipping