Cattle Bleeding Elevator – Heavy Track Rail System
Elevate your cattle processing with our robustly designed Cattle Bleeding Elevator. Made of durable galvanised steel, this heavy track rail system is positioned at the exit of the slaughter box. It safely and efficiently raises the cattle onto the bleeding rail, ensuring a smooth process with high throughput. With a lifting capacity of 1.5T, it can handle substantial weight, making high throughput possible. Designed with the operator's safety in mind, it is easily controlled by them, ensuring both safety and precision. Features include:
Safety for the Operator: Prioritised operator safety with ergonomic design and controlled operations.
Important Elevation: Ensures cattle are raised to the optimal height for efficient bleeding.
Robust Design: Built to last with a focus on durability and reliability.
Quality Material: Constructed from galvanised steel for longevity and resistance to wear.
Lifting Capacity: Can lift up to 1.5T, accommodating a variety of cattle sizes.
High Throughput: Designed for efficiency, allowing for a high volume of processing.
Streamline your cattle processing with our state-of-the-art bleeding elevator.
Fast Delivery

Expert Advice

Exclusive Deals
Features & Benefits
After slaughtering, the cattle are placed on the cradle. The "heavy twin-track rail" trolley and its bleeding sling are positioned at the base of the elevator, accessible to the operator. The operator then hooks the cattle's rear leg and manually controls the elevator's ascent using a suspended button box. All the required tools for hanging are conveniently within the operator's reach, minimising their movements and enhancing safety. An electrical stimulation can be implemented to further enhance safety during the hanging process.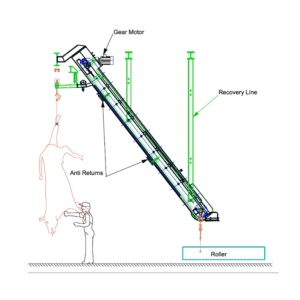 Technical Specs
Robust galvanized steel frame and hangers
Gearmotor of 7.5KW
Drive by a double chain with a pitch of 100
Shaft on standard bearings
Covered elevator foot
Delivery & lead times
We do our best to deliver within the lead times listed above. Although if you have any specific requests, please get in touch and we can see what we can do.
For international shipping, lead times may vary.

Fast Delivery

Request a quote for
international shipping