Butcher S Hook 140mm X 6mm POINTED – Stainless Steel
Double Pointed
140mm / 5″ Length
6mm Thickness
Our premium butcher S meat hook is designed to meet the highest standards of quality and efficiency. Made from top-grade stainless steel, our butcher S meat hook ensures maximum durability and is perfect for both commercial and home use.
Lead Time Estimated Delivery:
12/12/2023
(UK Shipping Only)
85 in stock
Fast Delivery

Expert Advice

Exclusive Deals
Features & Benefits
Looking for a reliable and durable solution for your meat-handling needs? Whether you're hanging meat in a professional setting or organising your kitchen, our butcher S hook offers unparalleled performance. Don't compromise on quality; choose our butcher S hook for all your meat-handling requirements.
View the full range of meat hooks from AES Food Equipment here: Meat Rails & Hooks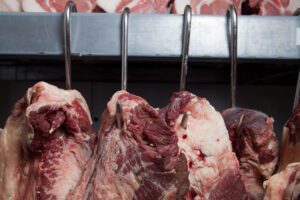 Delivery & lead times
We do our best to deliver within the lead times listed above. Although if you have any specific requests, please get in touch and we can see what we can do.
For international shipping, lead times may vary.

Fast Delivery

Request a quote for
international shipping