Stainless Steel Hand Wash Sink – Sensor Operated – Elpress
Stainless Steel Hand Wash Sink from Elpress
Smart Hygiene with Sensor Operation Elpress brings innovation to your commercial space with its sensor-operated Stainless Steel Sink. This smart basin ensures optimal cleanliness with a legionella prevention system that automatically flushes at intervals you can adjust. Set it to activate between 24 to 78 hours after the last use to maintain impeccable hygiene standards.
Durable and Stylish Design The sink's stainless steel construction promises long-lasting durability and adds a sleek, modern touch to any kitchen. It's a robust solution for high-traffic areas that demand both style and substance.
Temperature Control and Water Conservation Enjoy precise temperature control with the stainless steel thermal mixer tap. It comes with a water-saving perlator, allowing you to conserve water while providing a comfortable handwashing experience.
Easy Installation and Maintenance We've designed this sink for straightforward installation. It comes complete with a dirt trap and non-return valve connections, plus an odour trap to keep your space fresh. The risk of infection drops significantly with these features, making the sink a must-have for health-focused environments.
Complete with Essential Accessories The Stainless Steel Sink package includes a hanger and siphon, ensuring you have everything you need for a quick setup. Choose the sensor-operated model to benefit from the automatic flushing system that keeps water fresh and your sink clean without any extra effort.
Opt for the Elpress Stainless Steel Hand Wash Sink to combine ease, efficiency, and elegance in your hand washing facilities. It's the smart choice for any business prioritising health and hygiene.
AES Food Equipment are the UK's main distributor for Elpress Hygiene Equipment.
Lead Time Estimated Delivery:
13/12/2023
(UK Shipping Only)
Fast Delivery

Expert Advice

Exclusive Deals
Features & Benefits
EWG-1 – Stainless Steel Hand Wash Sink from Elpress
The single wash basin is a revelation for personal hygiene. The wash basin is ergonomically designed and reduces the risk of infection through the use of sensors. The wash basin and the tap are made from stainless steel. To prevent unpleasant smells, a siphon is mounted in the drain.
Made of stainless steel
Thermal mixer tap, adjustable to the desired temperature
Tap made of stainless steel, water-saving perlator included
Connections supplied with dirt trap and non-return valve
Odour trap
Reduced risk of infection
Hanger and siphon supplied
Automatic Flushing System (only with sensor operation)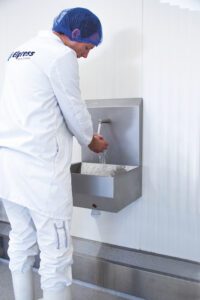 Delivery & lead times
We do our best to deliver within the lead times listed above. Although if you have any specific requests, please get in touch and we can see what we can do.
For international shipping, lead times may vary.

Fast Delivery

Request a quote for
international shipping