Elpress Pallet Washer
EPW-45
Capacity: max. 70 pallets per hour
Main wash and rinse zone
Constructed from robust stainless steel 304 plates and profiles, our Pallet Washer Machine is designed for durability and sits on adjustable feet for convenient installation.
The wash tunnel can be easily accessed through detachable hatches, ensuring easy maintenance.
Equipped with multiple nozzles on spraying bars, our Pallet Washer Machine delivers optimal cleaning results every time.
The integrated guiding system ensures that pallets are consistently positioned correctly throughout the cleaning process.
Lead Time Estimated Delivery:
21/02/2024
(UK Shipping Only)
Fast Delivery

Expert Advice

Exclusive Deals
Features & Benefits
Energy efficient
After rinse zone with fresh water
Stainless steel
Available with options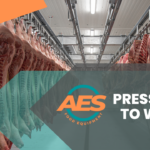 Technical Specs
The entire system is constructed out of solid plates and profiles (stainless steel 304) and is placed on adjustable feet. The wash tunnel is accessible by means of removable hatches. The spraying bars are provided with a large number of nozzles and will guarantee an optimum cleaning result. Guiding keeps the pallets in the right position while being cleaned.
In the main wash zone the pallets are cleaned and the dirt is removed. The spraying pattern of the nozzles is configured to reach maximum cleaning results. They are supplied with water by a powerful and energy efficient pump.
In the after rinse zone the pallets are rinsed with fresh water. Any residual detergent will be removed. To achieve this, the rinsing bow is directly connected to the fresh water supply.
Dimensions of the pallets:
1200 x 800 x 120 mm (lxwxh)
1200 x 1000 x 120 mm (lxwxh)
Delivery & lead times
We do our best to deliver within the lead times listed above. Although if you have any specific requests, please get in touch and we can see what we can do.
For international shipping, lead times may vary.

Fast Delivery

Request a quote for
international shipping