Knife and Glove Washer KH-2
A double capacity unit to get the most out of clean gloves, knives and utensils
KH-02 is a double unit of the KH-1 washing and disinfecting gloves and knives cabinet. Conceived for end of the shift cleaning, it can be used to wash gloves, knives with or without knife holders, cutting tables and other utensils.
Its compact design allows to install it anywhere.
Possibility to clean different elements: mesh-gloves, knife-holders, knifes, blades, aprons, Ergosteel…
Lead Time Estimated Delivery:
05/02/2024
(UK Shipping Only)
Fast Delivery

Expert Advice

Exclusive Deals
Features & Benefits
Capacity: 42 knifeholders + 42 gloves per cycle
Cycle Time: Three programs: 15-30 and 45 minutes
Pump Power: 3,2 KW
Filter Type: Tray filter
Stages: Washing-Thermal disinfection-rinse
Heating Type: Steam or Electrical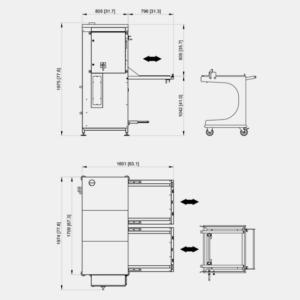 Technical Specs
Options and accessories
Steam exhaust
Conductivity control
Special racks
Delivery & lead times
We do our best to deliver within the lead times listed above. Although if you have any specific requests, please get in touch and we can see what we can do.
For international shipping, lead times may vary.

Fast Delivery

Request a quote for
international shipping