Fast Delivery

Expert Advice

Exclusive Deals
Features & Benefits
Sealing with pneumatic cylinder.
Progressive atmosphere (Soft Air).
Gas flushing entrance.
Vacuum and gas control by sensor.
Digital control panel with 99 memory programs.
Equipped with polyethylene for faster packaging and easier bag placement.
Easy maintenance.
Pump Busch 302 m³/h.
Voltage : 400 V/ 3ph/ 50 Hz.

Options

Cut of the bag.
Independent sealing and cutting control.
Technical Specs
All models include the progressive atmosphere (Soft air). Using this option, the air enters into the vacuum chamber gradually and controlled based on a predetermined time, so the bag can adapt to the product carefully without damaging it. It is ideal for meat with bones, lobsters, screws, powders, electronic components, or other kind of products that need more caution to be packed.
Except for the VP-280 flat cover.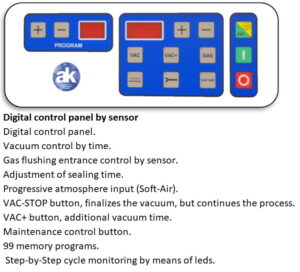 Delivery & lead times
We do our best to deliver within the lead times listed above. Although if you have any specific requests, please get in touch and we can see what we can do.
For international shipping, lead times may vary.

Fast Delivery

Request a quote for
international shipping